Click here to view a copy of the handbook that contains the day timetable, evening entertainment and all other information.
In the evenings BiCon has several socialising spaces, including places to drink alcohol and non-alcohol spaces. Below is the provisional timetable for this year's evening entertainment. Read further down the page for more information.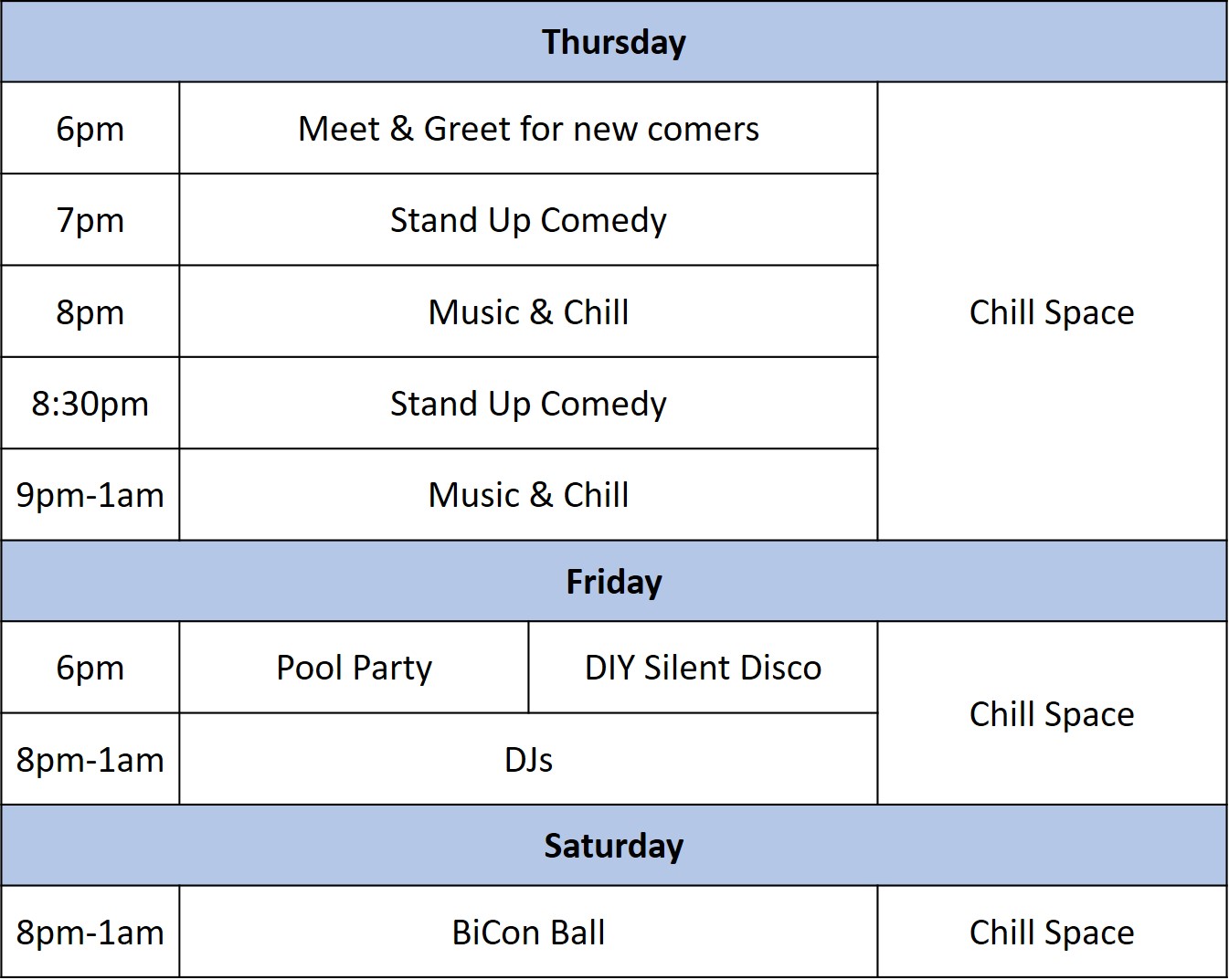 On each night there is Chill Space available. Not everyone wants to be in a noisy room or around alcohol. Next to our entertainment venue there is the Brandrig Room, a room we have hired which won't have music playing where people can hang out.
Thursday Evening
The first night is generally fairly relaxed and laid back. It's a chance to meet up with new and old friends, unpack and settle in. There will be a bar and lounge area to enjoy which is near to the accommodation, including some grassy areas if you'd like to sit outside.
6pm: Meet & Greet for new comers.
BiCon can be daunting for some people, arriving and feeling like everyone knows each other and you're the one left out. You're definitely not! Roughly a third of our attendees each year are newcomers to BiCon and this year we're hosting a meet & greet to introduce each other to some friendly faces and start the weekend on the right foot.
7pm: Stand Up Comedy
We're lucky to have two amazing stand up comedians joining us this year, both doing a set for half an hour each.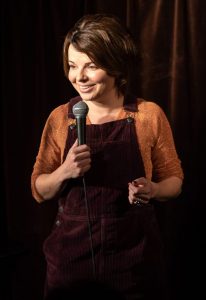 Rachel Wheeley
Rach is a comedian, producer and former studio director on Radio 4's Today. She runs Comedy at the Wheatsheaf, a mixed bill comedy night in glorious Tooting. She has a comedy science podcast, Level Up Human and is taking a show about bisexuality to the 2019 Edinburgh Fringe. She was shortlisted for the 2018 BBC New Comedy Award. Rachel has written for 4 Extra's Newsjack, Radio 4's News Quiz and Listen Against. Read more about Rachel here.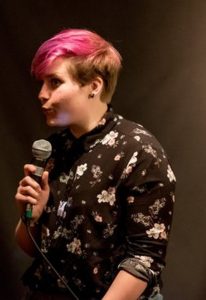 Cerys Bradley
Cerys performs stand-up at science comedy nights, LGBTQ+ comedy nights and just comedy comedy nights, they perform to sold out crowds and the occasional empty pub basement. They use a unique blend of biting sarcasm, goofy anecdotes, and PowerPoint to tackle topics like institutional homophobia within science and their parents' divorce. They have performed at the Edinburgh Fringe, Greenman Festival, Brighton Fringe and with the Science Showoff, Dr Jigg's Bowson, the Variables Presents…, the Vagina Museum, and the LOL Word. They are collaborating with Rachel Wheeley on an Edinburgh show, The Unfortunate Bisexual, and run a comedy night, the Big O' Bisexual Cabaret. Read more about Cerys here.
Celya Ab
Celya Ab is the most unique emerging talent on the UK circuit. Originally from Paris, France and of French – Algerian origins. Celya is now residing in the sunny city of Birmingham and has been making a huge impression on the UK comedy scene despite only starting her comedy career in 2017. Able to perform in French & English, Celya's sharp writing brings a unique look into life as a EU expat living in post brexit Britain. With a very likeable stage presence and natural ability Celya looks destined for the top. Find out more about Celya here.
8:30pm: Music & Chill
We like to keep Thursday night fairly relaxed, from 8:30pm there will be a relaxed set list of music playing in Barker House Farm and the bar will be open.
Friday Evening
6pm: Pool Party & DIY Silent Disco
We have two events to get us started on Friday night! We have booked the swimming pool at Lancaster University Sport's Centre for a pool party. Due to space limitations, we can only accommodate 60 people (including children) for this, therefore it will be ticketed.
Important: Due to safety regulations at the pool, inflatables will not be allowed.
Tickets Tickets are free to the pool party, they are just to manage numbers. These are available from 6pm on the 10th June. Email 2019@bicon.org.uk with "Pool party" as the subject header and let us know your name and how many tickets you want (maximum two per email). Only 60 tickets available – these are first come first served. There are 10 reserved tickets for trans* attendees.
If a pool party isn't your thing or you don't manage to get a ticket, we'll be hosting a DIY silent disco at the same time! Bring your headphones plus your own listening device and bop along to your favourite tracks, or grab a table and chat.
8pm: DJs
As per BiCon tradition, we're inviting our DJ attendees to host from 8pm onwards – dance the night away or simply enjoy the buzzing atmosphere of Barker House Farm!
Saturday Evening
We save the best till last! The weekend culminates in the BiCon Ball, a fantastic evening all round where there is the opportunity to dress up, socialise, dance, chat or simply relax.
Each year, the BiCon Ball has a theme, this year we have:
Bisexuals of the Future!
A night of dystopic drinks, futuristic frolics and prophetic partying
Far out future fashion or fantastic, fabulous aliens. Show us what the future means to you…
We've deliberately chosen a theme that has a galactic scale scope and myriad interpretations. Will you be the bisexuals that roam the earth long after humanity is gone? Or Perhaps how you imagine yourself in 20 years time? I want to see imagination and creativity but will also accept any silly excuse for re-using the sci-fi/steampunk junk you have lying around.
Show us what the future has in store for bisexuals!